What Is Instant Research?
A professional tool for online data collection.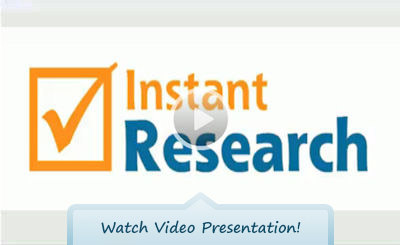 The Calculator
Allows you to know the price for your survey all the time. The calculator gives you an indicative price. While creating the survey, the price is calculated based on the amount of questionnaires, question type and penetration.
Selection of Respondents
You can use the Ipsos CASI panel for selecting the right respondents (containing 100 thousand registered respondents). We have more than 150 periodically updated entries about each respondent, which allows you to pick the exact respondents you are seeking for your research.
Creating Surveys
The simple interface helps you create surveys. After that, you can display and try them in the same form the respondent would see them (including the ability to edit them). On top of this, you can add to your survey information we already know about our respondents. All questions can be copied from any of your surveys.
Payment
You can either select payment by credit card or bank transfer.
Data Collection
Data collection begins immediately after receipt of payment and your questionnaire has been sent to the selected respondents. Collection takes 5 hours, 24 hours or 3 working days.
Results
By the fourth working day, the research results are delivered to you by email. You receive a data file and a table output, both in MS Excel (.xls format). The tables are sorted by basic socio-demographic criteria. You can define personalized sorting while creating the survey. Example
User Profile
The user profile allows you to review all of your surveys. We offer special cooperation to our VIP/long-term clients.
VIP Status
VIP status is designed for long-term Ipsos clients and for companies regularly using Instant Research. VIP status allows you to add more than 12 questions to a survey and pay after receiving an invoice.
CAWI
New
Do you have respondents you would like to address?
Send them a survey from Instant Research.
Begin here
Get one survey for free now. More information
Try Instant Research Mobile Express
Even faster data collection.
Outputs in 5 hours.
Ideal for quick surveys.
Respondents answer via mobile phones.
Data Collection In Czech Republic, Slovakia and Hungary
You can choose Czech, Slovak and Hungarian residents as a target group.
Pick your preferred country of data collection on the first page of creating surveys while choosing the respondents.
Why Instant Research
Simple survey creation and fast data collection.
An affordable solution for everybody.
Use of the Ipsos CASI panel.
Set research parameters based on your needs and opportunities.
Use of control mechanisms during data collection, which are currently above SIMAR/ESOMAR standards.
Ipsos' background and experience. The biggest research agency in the Czech Republic.
When To Use Instant Research
You want to make your own surveys and don't need client services.
You "just" want data collection.
You wish to verify your hypothesis on a target group.
You want to find out the respondents' reactions.
You need a fast solution, independent of the budget and the research plan.
You have a survey, but a lack of the right respondents.
Who Is Instant Research For?
Marketing specialists from large companies.
Senior management from mid-sized companies.
Small company owners.
Communication and media agencies.
Academic research.
Emerging companies.
Editors, journalists and reporters.